"THE LEADING PRE OWNED SOLNA WEB-MACHINE SERVICE & TRADING COMPANY IN THE WORLD"
SPARE PARTS AND SERVICES
We carry an extensive inventory of the most common parts for your Solna web offset machine.
When your machine is in need of qualified service we have the most experienced Solna engineers who can help you with all mechanical & electrical problems wherever your operation is located in the world.
CONSULTING SERVICES
We have almost 40 years of experience in the world of printing so if you plan for an expansion of your existing operation or a complete new start up we can help you to avoid some costly mistakes and guide you towards the best and most economical solution.
Contact us for more information regarding consulting services.
TRADING OF PRE OWNED MACHINES
Crestwood is the world leader when it comes to selling pre owned Solna machines but our Trading activities are not limited to one brand. We always try to find the best solution for your production needs and available budget. So we always try to locate and negotiate what is best for you as our customer!
SPECIAL OFFER!
PARTS KIT FOR FOLDER, FP1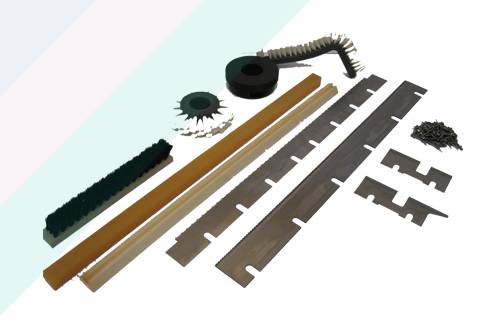 Set with the most common parts for your Solna folder F22-25-36 & 300.
Consisting of:
2 x 13 465 61, folding blade.
2 x 32 994 91, cutting rubber.
2 x 32 994 90, knife list.
1 x 14 596 67, cutting knife.
22 x 14 568 50, puncture needle.
1 x 14 730 67, quarter folding blade.
3 x 14 748 42, vane for jaw cylinder.
1 x 14 748 43, vane for jaw cylinder.